MAD KAPZ Cycling Jersey by Santini
SOLD OUT - first release of our MAD-KAPZ Cycling Jersey has now sold out - but dont worry - the second release will be available soon.
------------------------------------------------------------------------------------------------------------------
RELEASE DATE - FRIDAY 29th JANUARY 2021 @ 09:00 GMT
OK - you asked for it  . . . a KAPZ Cycling Jersey!
Here it is, the MAD-KAPZ Cycling Jersey, something totally different to brighten up your cycling adventures - world class fabrics and craftsmanship by Santini - made in Italy for quality, style, durability and comfort.
The Jersey will come complete with a custom full colour headset cap of your personal choice too.
NOTES - please read BEFORE ordering . . . 
In this FIRST RELEASE of our MAD-KAPZ Cycling Jersey, we are making just 6 of them available to our customers.
Once all 6 orders are received - production will commence = around 8 weeks max.
The Jerseys are available to anyone/anywhere on the planet BUT please remember that the first release all have the Union Jack on the left arm. 
Don't worry about the Headset Cap, we will contact you to sort out the design over the next few days.
We are already scheduling a second-release with a universal design for wider appeal - the second release will include the universal Jersey and possibly a Skin Suit, Bib-Shorts and Socks too.
Sizing is your responsibility. We cannot accept any returns as each MAD-KAPZ Jersey is custom made, just for you.
Obviously all products are covered by Santini's usual guarantees covering materials, quality and construction. 
If you have any questions, simply get in touch - we are here to help.
PLEASE BE QUICK and if you are lucky enough to secure one of our Jersey's we really appreciate your decision to purchase our product and value the the fact that investing in and wearing it on your cycling adventures is great advertising for our business - thank you!
Recommend this product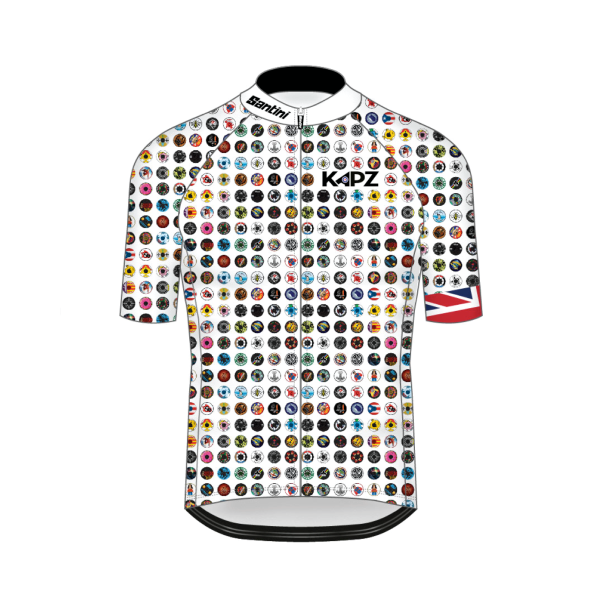 MAD KAPZ Cycling Jersey by Santini